In the fight against corona, we like to deliver face shields to healthcare. Casper created our design. We call it the Junior888 because it is derived from the Brussel888. The number 888 means that it is made of office items and a perforator on stand 888.
You can read more details on https://junioriot.org/junior-iot-against-corona/.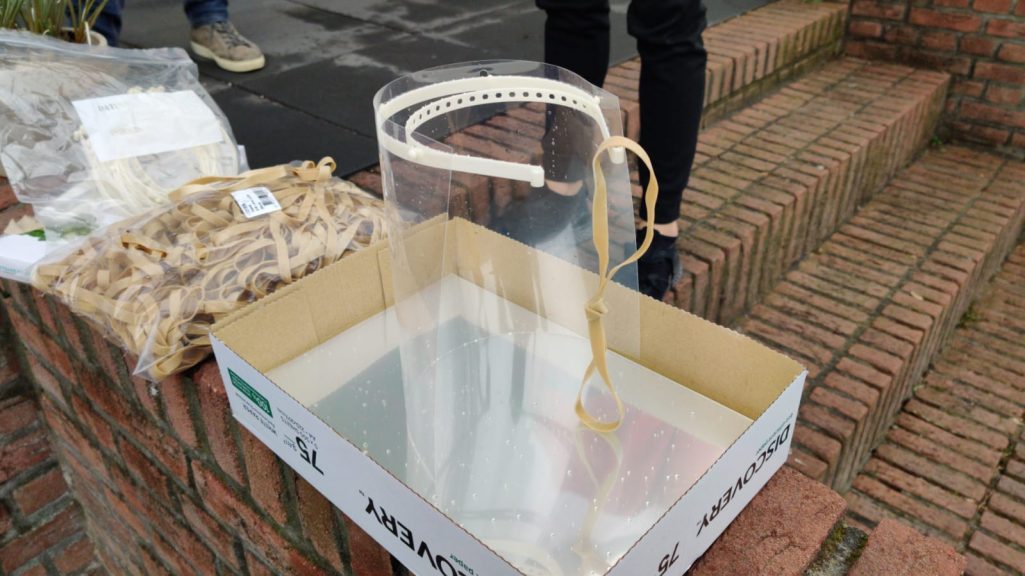 Background
At the moment there seems to be a particular need in our region for face shields; the face masks that stop the spit particles. These are always used in combination with a mouth mask.
A face shield, spray hood or face shield consists of a transparent sheet that is folded around the face. To keep this in place, a plastic headband is usually made, which is worn with an elastic band on the head.
How do we come up with this design
In the various discussions we see various variants that are being tested at different hospitals. Through the hospital in Alkmaar, we hear that re-use is allowed if the product can be cleaned in a chlorine solution – but they already have enough products. When considering whether a seal above the forehead is necessary, it turns out that hospitals in Germany, for example, do not ask for this. In all creative variations, one thing comes to the fore: it has to be quick to produce and easy to assemble from standard materials.
From office items that remain in stock
In the meantime, at the end of March, the various designs by the various groups of makers are rapidly succeeding each other. We see that one specific design gets good reactions, and is also faster to print than the others. This Brussel888 is a simple, comfortable headband with mounting hooks for a thin elastic band. A transparent sheet of A4 is provided with four holes by means of a perforator in position 888 and simply snapped onto the belt.
Transparent A4 sheets from Copycentre Alkmaar
For the design phase Copycentre Alkmaar sponsors 100 transparent A4 sheets. This is 200 micro thick, and made of a temperature resistant plastic. We experience this as solid, and super clear.
For the larger quantities we order 180 gram PVC sheets. Deliverability appears to be decreasing by now, so we quickly order a few stacks. This material turns out to be slightly thinner, but still sufficient. If we put several sheets on top of each other, we see a small cloudiness in the material. We are therefore curious to see how this will hold up in consumption.
Cover sheet Gbc A4 PVC 180 micron Transparent –> tip: look for a slightly thicker sheet.
Attention, in the online discussions we see that people want to work with the laser cutter. Sheets made of PVC should absolutely never be processed with the laser cutter because of the toxic fumes. Then choose another suitable material.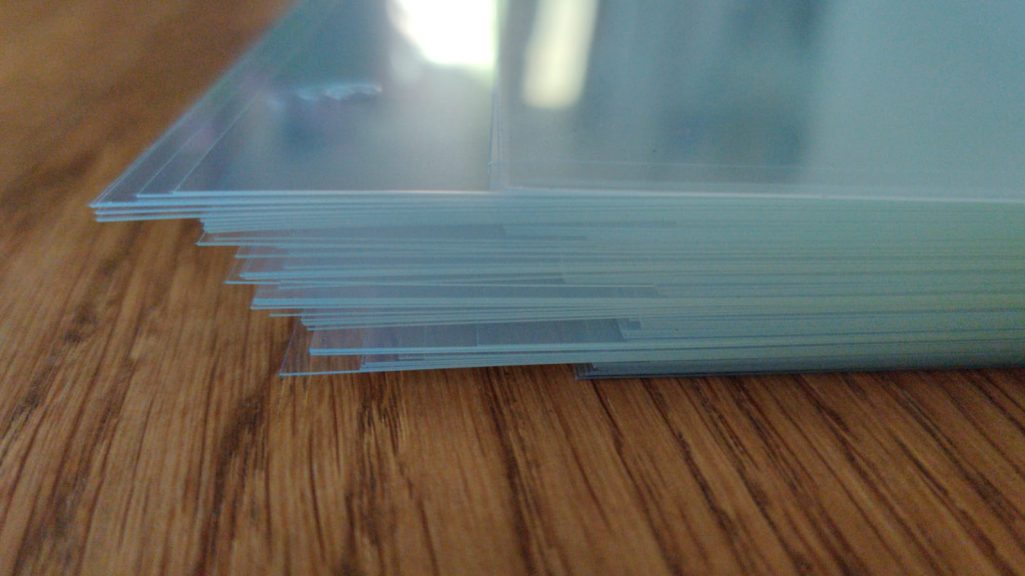 The number 888 stands for simple production
We use transparent A4 sheets, which can be found almost everywhere. In production we only give these sheets an 888 perforation with a regular home garden and kitchen perforator.
The user can of course further adjust the sheet himself, whoever finds it necessary can round off a corner with scissors.
Elastic fastening
We discover that the well-known wide post elastic bands actually work fine. This material is well stocked everywhere. For an extra luxurious version we use buttonhole elastic, which seems to be a little less in stock.
The post elastics work fine. You can easily hook two or three together. And with an extra button in it you can make them a little shorter if necessary. We see in real life that the wide elastic bands don't stay in the hair, which is very annoying with narrow elastic bands.
We soon see at the customers that everyone needs a different size to find the right feeling. That's why we choose to order different sizes of elastic bands.
Elastic 77 Standard 120x8mm 1kg, 440 pieces per bag
Elastic 64 Standard 90x5mm 500gr, 440 pieces per box
Elastic 68 Standard 140x5mm 50gr, 28 pieces per box
This allows the user to create a combination:
S

18 cm, 9 + 9
21 cm, 9 + 12

M/L

23 cm, 9 + 14
24 cm, 12 + 12 this one is a bit stiffer
26 cm, 12 + 14

XL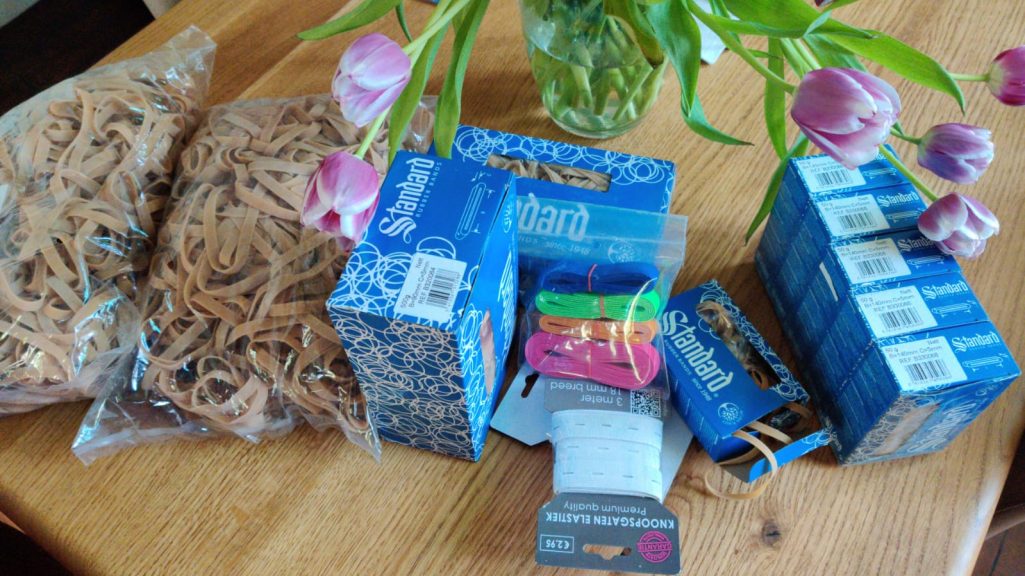 Stackable production model
Casper redraws the design to make a few adjustments. It now becomes stackable to 3D print many items at the same time. The details in the print are now suitable for multiple types of printers, tested by Joost. Casper moves the four attachment points to better fit the 888 perforation. He makes the hooks bigger to be able to use a wide post elastic.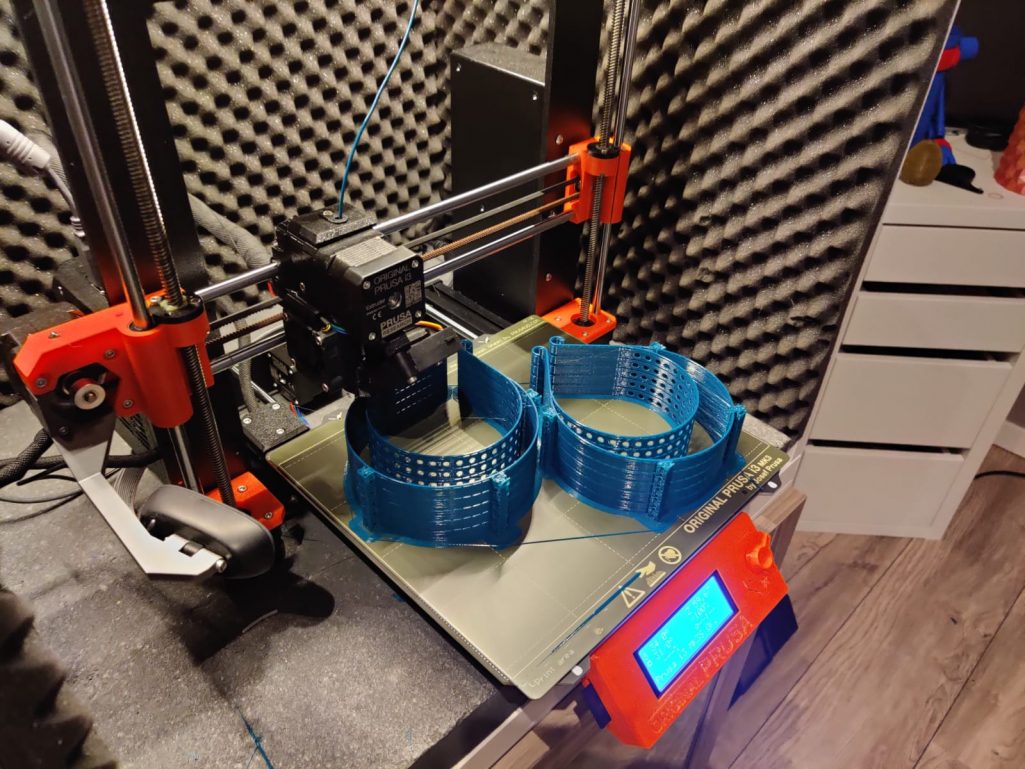 First test delivery
On April 8th we delivered the first tests at the first customer, 50 pieces for Esdege. They are going to hand these out to the different care locations. We will soon bring an extra delivery.
Do you print with us?
We would like to have more people who want to make the 3D prints. You can read more details on https://junioriot.org/junior-iot-against-corona/